So we all know the myth of the Fairy tale Wedding. The one where every girl wants to get married in a big floooofy white princess gown and glass slippers, and be swept off our feet by Prince Charming. And that's totally fine. But lets face it. It's 2019. If we want to, we can make our own damn fairy tale, and if we want to wear a black dress and Doc Martens, we bloody well will. That goes for Prince or Princess Charming too. So here's my guide to non-traditional wedding dresses for the non-tradtional bride. I've listed my absolute fave bridal suppliers- wonderous places where you can buy dresses with sass and style that will help you rock your day, your way.
The Couture Company
(Photos, left to right, by Assassynation & Emma & Rich)
My ultimate favourite for quirky embroidered gowns, The Couture Company ooze alternative cool. Their quirky designs are colourful and cute, and they even have matching accessories and the most incredible embroidered jackets. Everything is bespoke and made to order, and is just exquisitely beautiful. Plus, Jo, the mastermind behind it all, is also one half of the Eclectic Wedding Extravaganza team- you can find me in their directory, the Eclectic Wedding Encyclopaedia here.
Lucy Can't Dance
 (Photos by Megan Elle Photography)
I absolutely adore Lucy Can't Dance's colourful, quirky gowns- they experiment with dip dying, lace and layering to create gorgeous effects. Their collection is boho, vintage and festival inspired, so perfect for boho brides with a bit more spunk. I love the ombre dresses and the intricate details- they're perfect paired with a personalised denim or leather jacket too.
ASOS
(Photo by Rachel Burt Photography)
You wouldn't think it, but ASOS is absolute bridal heaven. With its own wedding collection at super affordable prices, it is an absolute dream for a bride on a budget. Not only that, but if you think a little more outside the box, you can create a daring, alternative bridal look using their partywear too, just like Audrey (above) did for her Bury Railway wedding which I second shot for Camera Hannah- try searching for sequins, tulle skirts and glitter accessories.
Etsy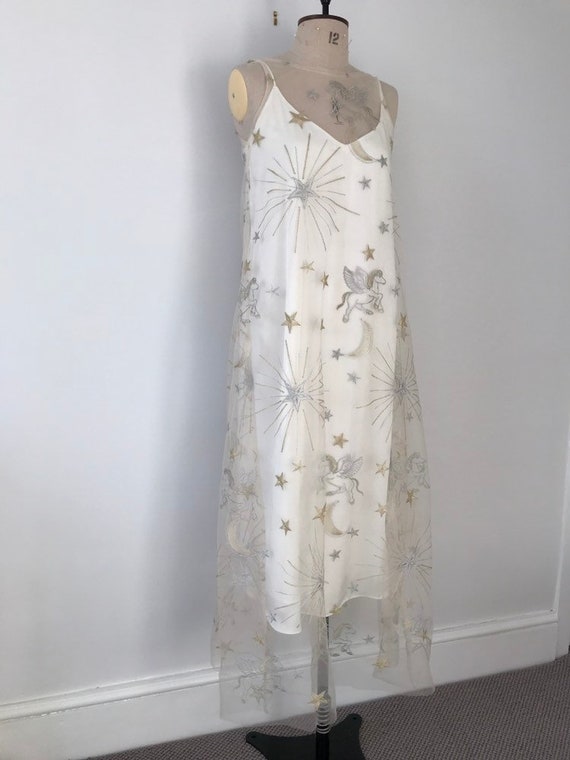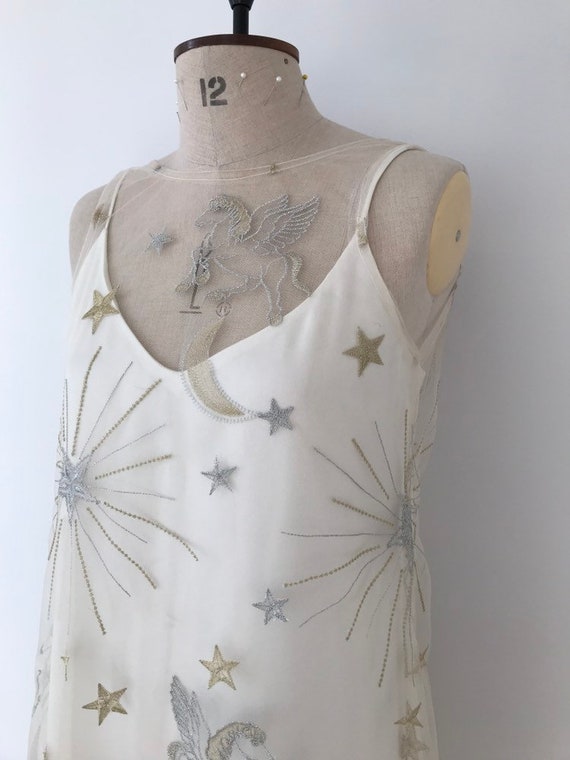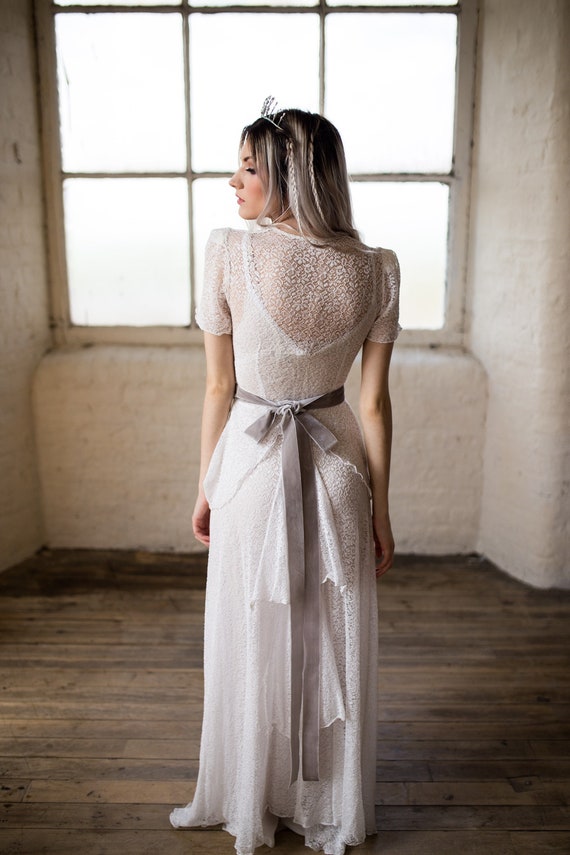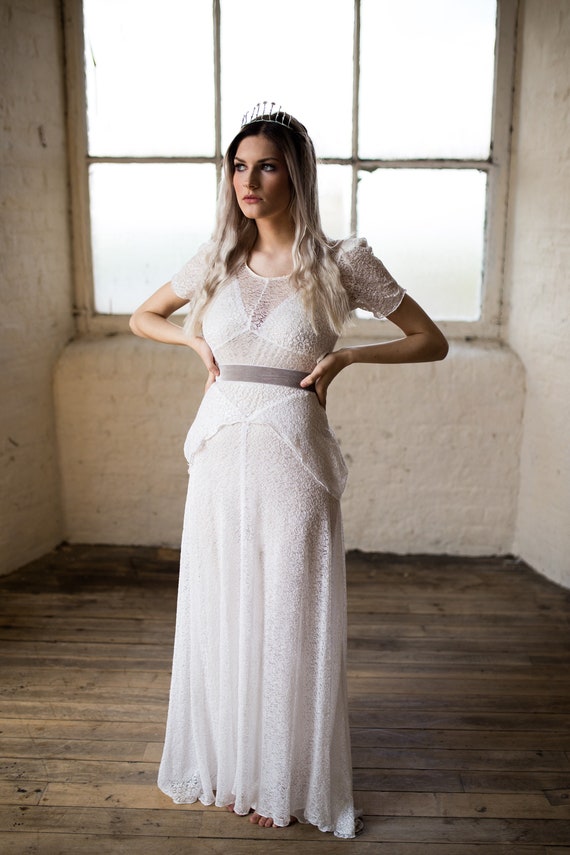 If you want to shop small, and use independent suppliers for your wedding, Etsy is an absolute goldmine of amazing ideas. I just loved this stunning kooky embroidered slip dress by Emma Dee Bridal- just look at that UNICORN!!! Etsy is also an amazing place to find vintage gowns, such as this stunning 1940s vintage gown from Six Penny Bride, who also make the most AMAZING crowns and headpieces from vintage jewelry. With vintage and  handmade gowns, you could even have it perfectly tailored, or altered to create something entirely bespoke- the world is your lobster!
Chontronette
Totally and terrifically incredible, I love the gorgeous tulle, layered, embroidered gowns from Chonronette. They have an ethereal, fairy like quality that I just adore. I love this from their website- "We're obsessed with Frida Kahlo, retro punk music, Art Nouveau architecture, Wes Anderson's movies and Victorian glasshouses. Our artistic goal is to make timeless dresses that would have looked great at Gatsby's parties, but that would still look exquisite 50 years from now. We don't believe in trends, but we do believe in style."
Temperley London
If you want to push the boat out a little, why not try a high end designer. Temperley London are one of my absolute favourites- I just love this embroidered floral Toledo dress (far left). Combining luxury with colourful quirkiness- what's not to love?
Dig For Victory 
(First Photo by Joanna Brown Photography, others unknown)
Dig For Victory is a sustainable fashion label who create gorgeous vintage inspired bridal gowns with gorgeous detailing. I love the colours and swing skirts! All of their wedding dresses are custom made at their studio in Brighton, and each one is as gorgeous as the next!
Rosie Red Corsetry

   
Creating beautiful bespoke bridal gowns and corsetry, Rosie Red Corsetry's motto is " Every Body Deserves to Feel Beautiful"- aint that the truth!! Their collections are absolutely stunning and I love the three-dimensional flower details and layers of tulle. Gorgeous! Perfect for brides who want a structured gown without the traditional styling.
Needle & Thread
(Photos, left to right, by Miss Gen Photography & We Heart Pictures)
If you're looking for a beautiful white gown, but a bit less tradional, the stunning embroidery and detailing on Needle and Thread gowns is to die for! They also sell amazing capes and veils too. Their dresses are an amazing cross between elegant and alternative which I love. 
Crown & Glory
For veils, flower crowns and accessories, Crown and Glory Is a one-stop shop of total amazingness. They've just released an incredible new collection and often collaborate with Rock N Roll Bride. I just love all the colour and sparkles!
Mila Mira

For super-stylish drama, look no further than Mila Mira. I especially love the incredible tulle skirt on their FJORGYN design (far left),  and their super cute wedding separates. So cute but with a rock chick edge. I love it!
Found a dress you love elsewhere? Got a recommendation that I've missed? Let me know in the comments so that I can create the ultimate bridal bible!